Quality Assurance
The Association has a Quality Assurance Recommendation Program to check the quality of the glue bond (AFRDI 145).
The Timber Veneer Association of Australia is a proud Gold level member of Furntech AFRDI.
The Australasian Furnishing Research and Development Institute is an independent not-for-profit technical organisation providing standards, testing, product certification and research for buyers and sellers of furniture
In July 2010 a product specific testing method was developed by Furntech at the University of Tasmania to quantify and qualify bond strength achieved in timber veneer to board lamination, namely the AFRDI-145 testing method.
Working to AS/NZS 4266.32 Reconstructed wood-based panels – Methods of Test, Method 32: Veneer Bond Strength a Tensile Test Machine is used to quantify the amount of kilograms per square centimetre can be applied to laminated timber veneer before bond failure.
QA program participants?
Distributing raw timber products into the market can be challenging when considering the amount of further processing required before it becomes a finished piece of furniture, wall and ceiling linings or high quality joinery.
The bond between timber veneer and the substrate (under) can come under extreme pressure from processes such as routing, drilling and cutting. Stains and finish coatings have a myriad of chemicals and are subject to correct specification and application techniques by a third party in most cases. All of which is more often than not, outside of the panel manufacturer knowledge and/ or control.
By participating in the Quality Assurance program veneer board manufacturers are subjecting their individual products to an independent assessment to ensure manufacturing standards and practices are upheld to the highest level.
Bond strength and panel integrity is of upmost importance for all TVAA endorsed panel manufacturers. By adhering to the AFRDI 145 program manufacturers can eliminate any potential issues in their production, gain piece of mind in integrity of products being produced and have access to technical assistance when required to ensure panels being manufactured are of the highest quality.    
Look out for the seal of approval from participating members to ensure your panels are manufactured to the highest possible standard.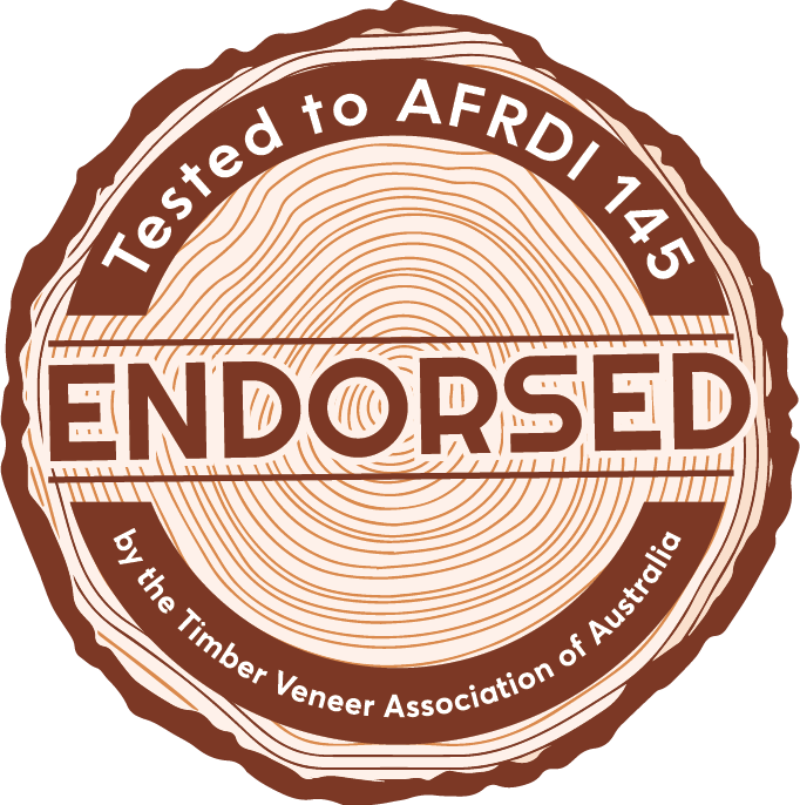 AFRDI-145 Standard
To participate in the above mentioned Quality Assurance Program, panel layers/ manufacturers of veneered board, are required to submit samples periodically from various batches of their production. Samples are gathered and tested using the AFRDI 145 method at Henkel Australia's Adhesives Research laboratory in Seven Hills, Sydney.
The AFRDI 145 method sees the veneer board samples undergo a vigorous pressure test, using a specifically developed Tensile Testing Tool and incremental weights (pictured below).
The submitted sample piece is glued (using Henkel's Technomelt Supra 100 hotmelt) to component of the Tensile Testing Tool called the "Testing Block", which locks into place allowing weight to be applied to the counter side. This thereby subjects the layer of timber veneer and its bond to the substrate under to "pull test". 
Tensile force is added by applying weights to the weight holder (counter side) every 15 seconds until veneer fails or all five weight masses have been added – totalling 15kg.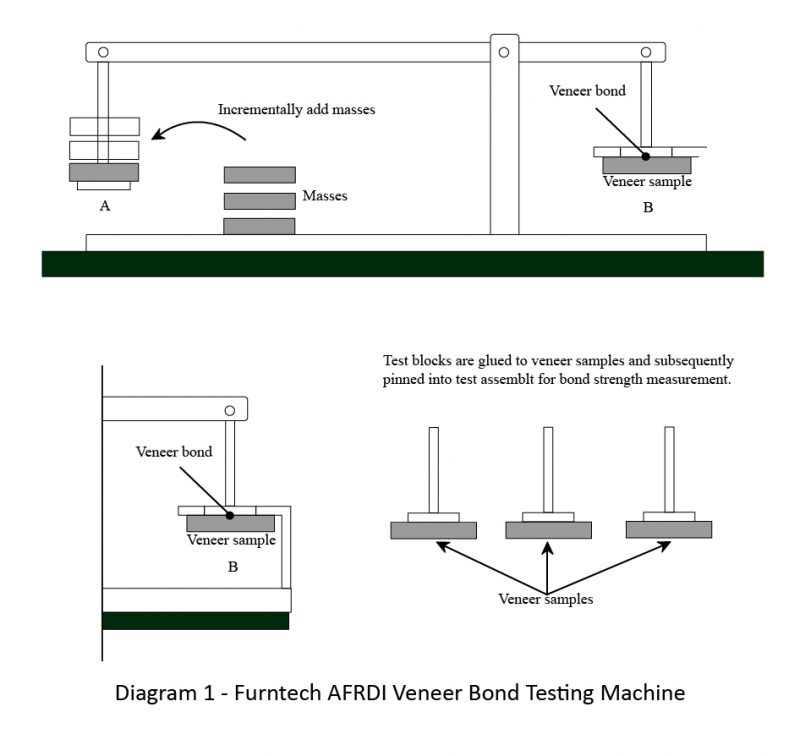 Participants are given the results and any specific findings relating to bond strength in the form of individual assessments of each sample provided (example report is linked below). With a simple Pass or Fail, Veneer board manufacturers gain an immediate understanding of how their products perform and can take appropriate action.

In the event a sample fails the above test, the submitting panel manufacturer is contacted, and further investigation and test are carried out.
All testing data is kept on file and can be drawn upon if and when required. A Support network of associated members are all on hand to assist in fault finding relating to manufacturing, materials and/or adhesives.  
The AFRDI 145 testing method can also be used on any materials that are found to be faulty post production and fabrication. Again offering the end consumer and manufacturers alike a means to solving problems that may arise through the manufacturing process of both the veneer board and finished joinery/ panels.